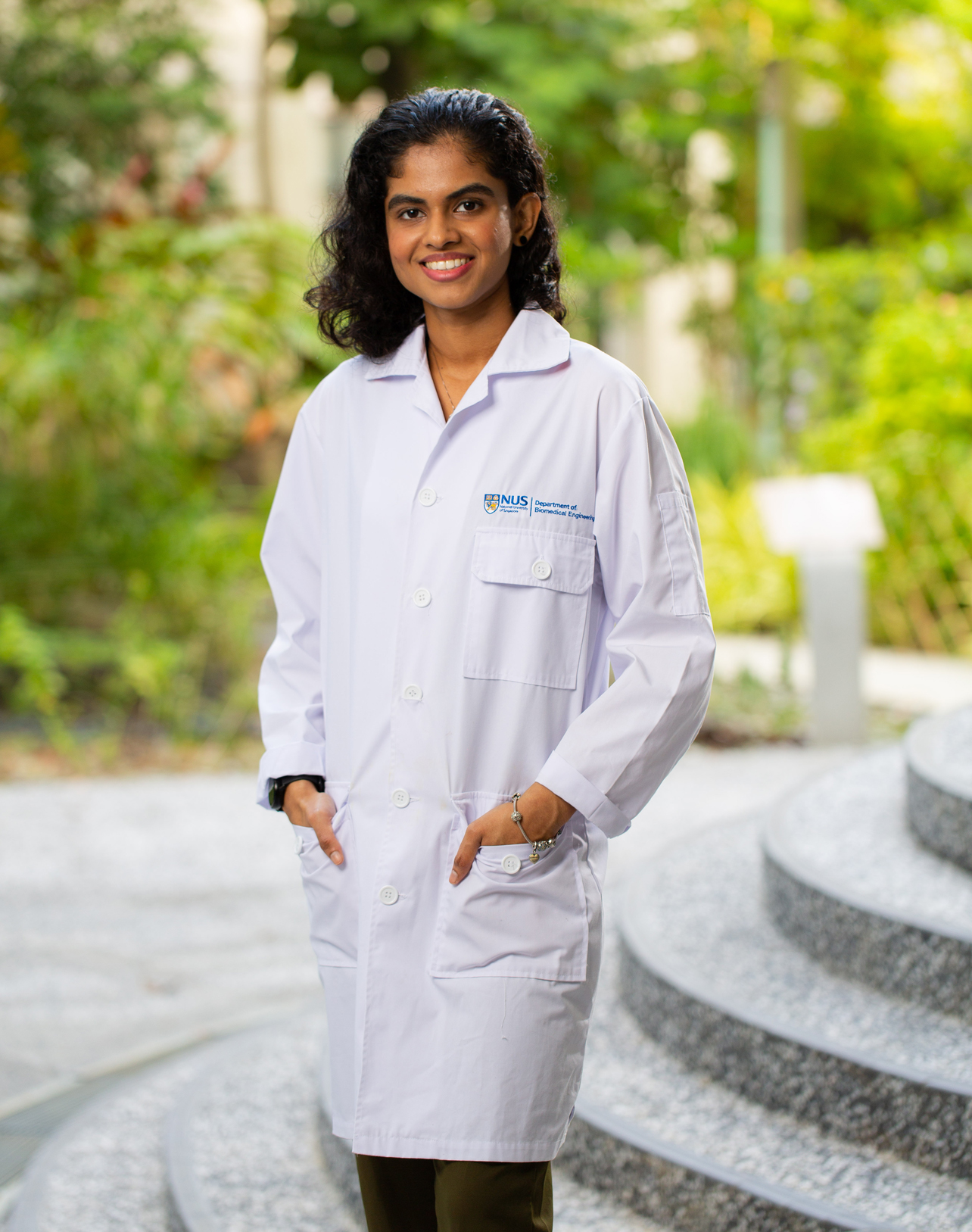 Enrolling in SITLEARN Professional Development's Robotics Fundamentals and Advanced Robotics courses to supplement a module she was taking at school, Monisha Joy Gomez shares how attending these courses has been enriching in both academia and real-life.

Hi Monisha, can you tell us about yourself please.

I'm a research assistant from the department of Biomedical Engineering and currently pursuing a part-time master's degree in the same field at NUS. I graduated with a bachelor's degree in Food & Human Nutrition from Newcastle University, but grabbed the chance to pursue engineering when it was offered to me. I love how research broadens my perspective, as you have to overcome numerous challenges brought forth by varying obstacles you may not even have anticipated.

What drew you to the robotics courses offered at SIT?

I was required to take up a robotics module at the postgraduate level as part of my degree requirements. The offer to enrol into the SIT robotics course came just as I was about to begin classes at the National University of Singapore (NUS). I signed up for the course voluntarily to help supplement my understanding of the module Biomedical Engineering Systems that I was enrolled in back in NUS.

Did the course meet your expectations?

I wanted to understand the fundamentals of robotics, from the hardware down to the software aspects. I believe it is important to have an overall view of an area before delving into specific parts of the process. The course was more industry-focused, which helped me understand the direction to which my academic-based efforts would progress onto.

Were you surprised at how big a role robotics has within the current biomedical & health landscape?

I would say that I am now more aware of how robotics can be utilised in healthcare. I also had just started investing, and the course spurred my interest to search for promising robotic solutions up on the stock market. Understanding current biomedical problems with my increased awareness of robotics gave me the assurance to keep an eye on companies listed on the stock exchange, responsible for robotic-assisted medical tests and treatments.

Do you think automation via robotics will be a boon or bane for the biomedical industry specifically?

A boon, as more dexterous solutions will be made available for patients to opt for and ultimately, receive better health outcomes.

What was something about robotics you found particularly enlightening?

The tentacle-like robotic systems to increase dexterity shown during class piqued my interest, as I used to associate robotics with rigidity. I'm also aware of the challenges posed from the open world, but I'm nevertheless hoping to see its progression into employment soon.

Were there any parallels you noticed between tissue engineering and robotics?

Tissue engineering and robotics are in fact opposites. Robotics is relatively at a more advanced stage compared to tissue engineering, and this was one of the major take-aways for me. Tissue engineering utilises biological materials whereas robotics depend on programmable mechanical manipulation, making the former highly unpredictable. How I see it is that in areas where tissue engineering has yet to be feasible, robotics can be of servitude. For example in the cases of stroke patients, as tissue regeneration of the afflicted limb has yet to materialise due to its complexity, research efforts focused on providing functionality through the development of an exoskeleton might be more plausible.

What do you personally hope to achieve within the biomedical engineering field?
Well for now, I hope to complete my Master's Degree as that has been quite an ardous task itself. I may then venture out into the industry to be part of a team working towards producing commercial products. It would be a whole new experience considering the research within academia is more developmental rather than marketable.

How have you applied the learnings from the course to your workplace?

The course has helped me appreciate the process of designing a robot, considering various parameters, all of which are translatable steps to my research within Biomedical Engineering.

What were your first impressions when you heard SIT was giving each student/alumni $2,000 worth of learning credits?

I'm grateful to be given the opportunity to hone skills beyond my degree, to give me a possible edge over others be it through job applications or investment ideas.

What were your first thoughts when you heard SIT was giving each student/alumni $2,000 worth of learning credits?

I was very happy and excited because I could make use of the credit to attend courses that I am interested in it but did not have opportunity to attend.

What are your thoughts on skills upgrading?

It's very important to constantly upgrade in this everchanging technological era, especially to distinguish yourself from peers who have been taught under the same education system and therefore, may have similar thought-processes as you.

Would you recommend others to take up SITLearn Courses? Why?

Yes, especially since we have been given learning credits. We should definitely keep upskilling.

Are there any other SIT courses you are considering taking up?

Well, I hope to see SIT courses on Digital Marketing, or Data Science.