SIT's lifelong learning division lays the foundation for Class of 2020 Civil Engineering graduates to attain their Professional Engineering qualification.
In a bid to strengthen the credentials of graduates from the Class of 2020, SITLEARN Professional Development (SITLEARN PD), the university's lifelong learning division, held the inaugural run of the Introductory Course on Fundamentals of Engineering Examination (FEE) in Civil Engineering from 21 September to 2 October, followed by the SIT FEE (Civil) exam on 19 and 20 October.
A total of 34 recent graduates from the Civil Engineering joint programme by SIT and University of Glasgow attended the two-week course and sat for the FEE, led by Prof Wong Kai Sin, Asst Prof Hartono Wu and faculty members from our Engineering cluster, paving the way for them to qualify as Professional Engineers (PE) in Civil Engineering. This initiative is made possible by a collaboration between SIT and the Professional Engineers Board (PEB) Singapore, with the aim to encourage local graduates to start their journey towards becoming a PE (Civil) at an earlier stage of their career.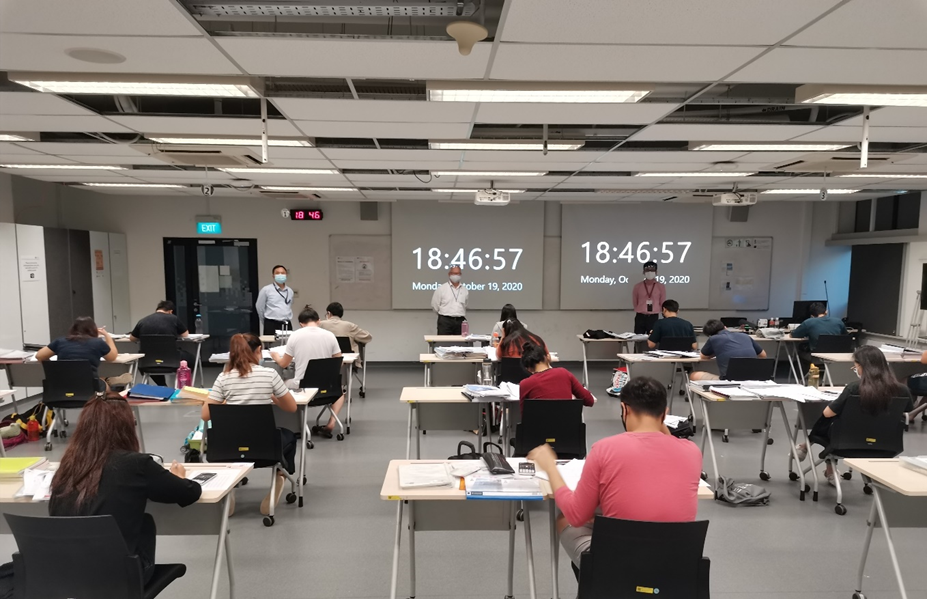 (Standing from left to right) Prof Chiew Sing-Ping, Prof Wong Kai ​Sin, and Asst Prof Hartono Wu, supervising candidates taking the SIT FEE (Civil) Exam.
To qualify as a PE (Civil) with PEB Singapore, applicants are required to attend a professional interview, pass the FEE and the Practice of Professional Engineering (PPE) Examination, on top of fulfilling the relevant work and industry experience, after completing their degrees in Civil Engineering.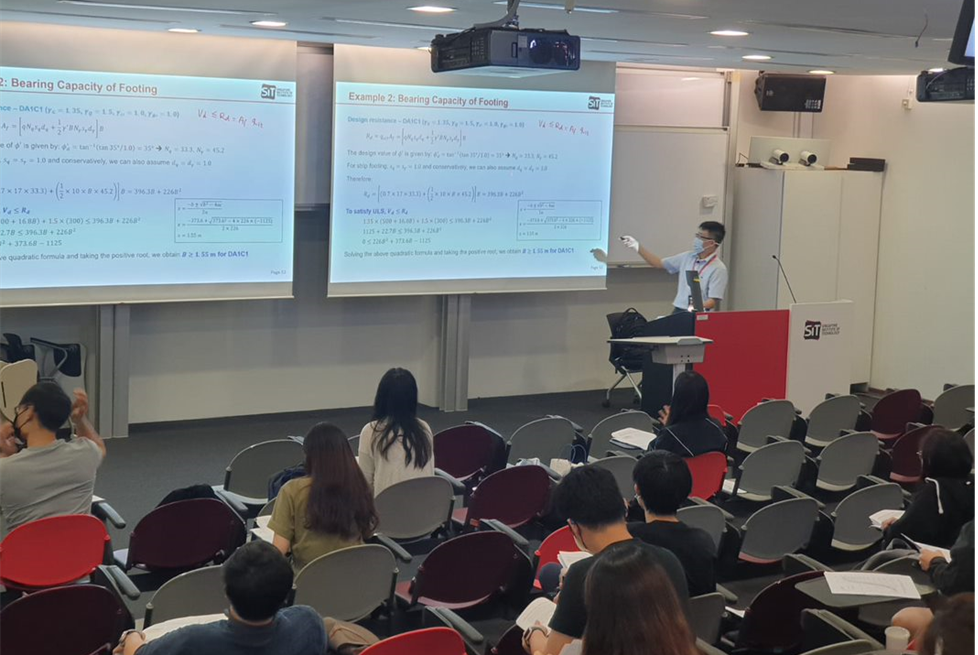 Asst Prof Hartono Wu conducting a class during the Introductory Course on Fundamentals of Engineering Examination (FEE) in Civil Engineering
Registration as a PE (Civil) is not only preferred by some employers, but allows engineers to take up greater responsibility and role as a Qualified Person (QP) by performing duties such as signing, approving, and submitting project plans and drawings to relevant authorities. This professional qualification enables them to command a higher remuneration, as well as prestige and respect in the industry.
Echoing the importance of this was Class of 2020 graduate and course participant, Alicia Ho, 26. "The FEE course is definitely an added advantage as it would adequately prepare me for a career-defining examination. Passing the FEE will bring about more job opportunities and better career progression," she said.
In support of SIT's Class of 2020 graduates, SITLEARN PD is offering up to four free Continuing Education and Training (CET) courses, allowing them to utilise their existing SITizens Learning Credits.
"SITLEARN PD is committed to help our graduates enhance their employability and support them in upskilling for better career advancement. We hope that more graduates like Alicia will take advantage of their $2,000 SITizens Learning Credits (SLCs) to further enhance their skills and gain recognised professional certifications, especially in this ever-changing landscape," said Prof Ho Yew Kee, Associate Provost (SkillsFuture), SIT.​
​Click here for more information on the SIT FEE (Civil) Exam.