Overview
This module provides participants with in-depth knowledge, skills and competency in the modelling, simulation and data analysis of electrical power systems. This is essential for the effective, safe and stable operation of modern utility grid with growing penetration of renewables, distributed energy resources and power electronic control devices. Theory and practice using industrial standard computer-aided engineering software such as EMTP and ETAP will be taught. Transient simulation and analysis techniques of power grids with modern power system stability compensating devices, electrical machines and system protection apparatus are emphasised.
What You'll Learn
Simulation Techniques and Software for Power Systems
Nodal analysis in electric circuits
Steady-state and transient simulations
Electromagnetic Transient Program (EMTP)
Transient Analysis Control System (TACS)
Visualization
Modelling of Fundamental Power Grid Components
Common models in EMTP and ETAP
Overhead transmission lines
Underground cables
Single-phase two and three winding transformers
Three-phase transformer
Inrush currents
Transient Analysis of Current Breaking and Arcs in Protection Devices
Short circuit current breaking
Capacitive current breaking Inductive current breaking
Transient recovery voltages
Mayr and Cassie arc models
Current zero skipping
Transient Analysis of Power Electronic Equipment and Controls in Modern Grids
HVDC inverter/converter circuits
Static VAR compensator
Thyristor-controlled inductor
PWM self-commutated inverters
Static VAR generator
Dynamic voltage restorer
Simulation and Analysis of Electrical Machine Dynamics in Power Systems
Electrical machine models and parameters
Synchronous machines
Induction machines
Doubly-Fed machines
Permanent-magnet machines
Mechanical torque loads
Transient Stability Analysis, Control and Enhancement
Classic analysis and time-domain analysis
Field excitation control
Doubly-fed flywheel generator for stability enhancement
Line-start and power electronic-controlled starting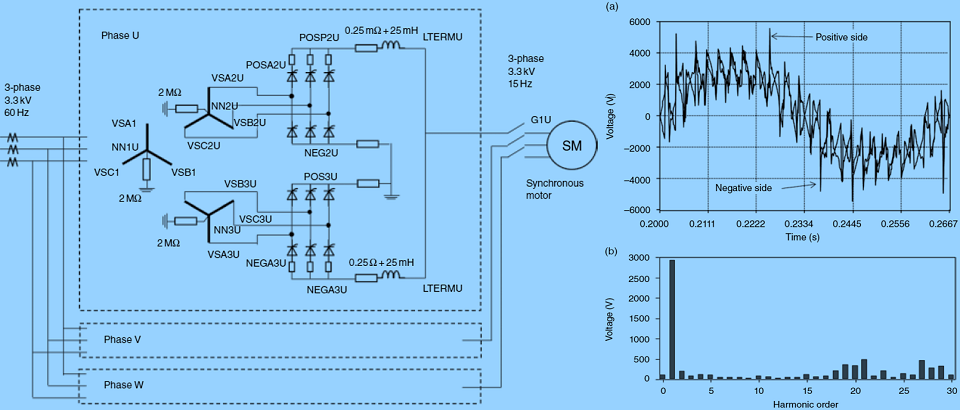 Who Should Attend
Engineers working in power and energy sector;
Railway electrical power supply and propulsion professionals;
Electrical and electronic engineering professionals;
Researchers and educators in electrical engineering and urban sustainability-related areas
Prerequisites
Bachelor degree in Engineering
At least one year of relevant working experience
Assessment and Certification
A Certificate of Participation will be issued to participants who:
Attend 75% of the module
Undertake the Continuous Assessment
A Certificate of Attainment will be issued to participants who:
Attend at least 75% of the programme, and
Participants who pass the Continuous Assessment and Exam Paper will earn 6 ECTS credits, which are stackable for PGCert or MEngTech qualifications.
Continuing Professional Development
This module is eligible for the following continuing professional development units:
Frequently Asked Questions
What coding skills do I need for this module?
No specific skills are required for this module. A basic engineering degree and relevant working experience are sufficient to pick up the knowledge and skills in modelling, simulation and analysis of electrical power systems.
How are the SIT postgraduate EPE modules different from other postgraduate courses in power engineering offered elsewhere?
Other postgraduate courses offered elsewhere usually focus primarily on theories of power engineering, targeted at research-intensive outcomes. Our applied learning and training instead places equal emphasis on theoretical knowledge and practical training for industries in using state-of-the-art simulation and analysis tools. The curriculum is developed in alignment with the National Energy Competency Framework launched by EMA in June 2015.
Schedule
Lesson
Class Timings
(Mondays, 7pm to 10pm)
Lesson 1
2 Sep 2019
Lesson 2
9 Sep 2019
Lesson 3
16 Sep 2019
Lesson 4
23 Sep 2019
Lesson 5
30 Sep 2019
Lesson 6
7 Oct 2019
Recess Week
14 Oct 2019
Lesson 7
21 Oct 2019
Lesson 8
28 Oct 2019
Lesson 9
4 Nov 2019
Lesson 10
11 Nov 2019
Lesson 11
18 Nov 2019
Lesson 12
25 Nov 2019
In the event a course date falls on a public holiday, the trainer will make alternative arrangements in consultation with the students.
Fees
Category
Full Fee
After SF Funding
After SF Mid-Career
Enhanced Subsidy
Singapore Citizen (Below 40) / Singapore PR
$3,447.54
$1,034.26
Not Eligible
Singapore Citizen (40 & above)
$3,447.54
$1,034.26
$389.86
Non-Singaporeans
$3,447.54
Not Eligible
Not Eligible
Note:
All figures include GST. GST applies to individuals and Singapore-registered companies.
You can opt for either SF Series Funding or Mid-Career Enhanced Subsidy. Both cannot be combined.
»
Learn more about funding types available
Terms & Conditions:

SkillsFuture Funding
To be eligible for the 70% training grant awarded by SkillsFuture, applicants (and/or their sponsoring organisations where applicable) must:
Be a Singaporean Citizen or Singapore Permanent Resident
Not receive any other funding from government sources in respect of the actual grant disbursed for the programme
SkillsFuture Mid-Career Enhanced Subsidy
To be eligible for the 90% enhanced subsidy awarded, applicants (and/or their sponsoring organisations where applicable) must:
Be a Singaporean Citizen
Be at least 40 years old
Not receive any other funding from government sources in respect of the actual grant disbursed for the programme
SIT reserves the right to collect the balance of the programme fees (i.e. the potential grant amount) directly from the applicants (and/or their sponsoring organisations where applicable) should the above requirements not be fulfilled.
What Industry Experts Say?
"Applying power system analysis techniques to industrial and commercial power systems
As computer technology has advanced, so has the complexity of industrial and commercial power systems. These power systems have grown in recent decades with capacities far exceeding that of a small electric utility system. Today's intensely competitive business environment forces plant or building management personnel to be very aware of the total owning cost of the power distribution system. Therefore, they demand assurances of maximum return on all capital investments in the power system. The use of digital computers makes it possible to study the performance of proposed and actual systems under many operating conditions. Answers to many questions regarding impact of expansion on the system, short-circuit capacity, stability, load distribution, etc., can be intelligently and economically obtained."
-
IEEE Standards 399-1997 (The Brown Book)
SIT reserves the right to make changes to published course information, including dates, times, venues, fees and instructors without prior notice.
Course Series
Find out more about the Modular Certification Courses - Electrical Power Engineering (EPE).
These modules are stackable towards a Postgraduate Certificate in Electrical Power Engineering (PGCert EPE) or can be taken individually as a single module as follows:
Each module carries 6 ECTS credits which are stackable for graduate qualification of PGCert EPE. Candidates who pass any of the above 4 modules (totalling 24 credits) with a CGPA of 2.5 or more will be awarded the Postgraduate Certificate in Electrical Power Engineering (PGCert EPE) by SIT. All the above modules are subsidised by SkillsFuture Singapore. Eligible individual may enjoy up to a maximum of 5 subsidised modules.

The above modules have been renamed from EPE60XX to EEE60XX for modules starting from Sep 2019. There is otherwise no change in stackability towards the Postgraduate Certificate in Electrical Power Engineering