Overview
It is of utmost importance to provide effective stewardship of your enterprise assets through their full operational lifecycle - from acceptance through operational use (O&M) and disposal including properties, buildings, land, structures, equipment and furniture.

In this 18-hour course, you will learn how to set up, maintain and make use of the asset inventory effectively. This will help you to provide the management the required transparency, accountability and control to improve asset utilisation rates, which can reduce capital expenditures.

Monitoring the maintenance of buildings and assets to prevent deterioration and breakdown of the facility will also be covered in this course. Additionally, you also will learn how to resolve issues in an expedient and cost-efficient manner without impacting production, inconveniencing staff, or compromising safety in your day-to-day operations.
What You'll Learn
Fundamentals
Describe the variety of business applications
Demonstrate familiarity navigating the web
Produce reports of facilities data, including graphical representations of floor plans from BIM
Use rich client application to manage views and data
Asset Inventory
Introduce the benefits and the minimum steps required to develop an asset inventory
Develop an inventory of assets from BIM models
Provide answers to questions of dates, costs, status, location, etc
Define standards for different models or types of equipment and furniture
Define warranty vendors and service contract vendors
Incorporate industry classifications into inventory
Review, prepare for disposal, and dispose of assets
Depreciation
Define depreciation property types
Assign property types to equipment assets and tagged furniture assets
Analyse depreciation and costs by using depreciation reports
Building Operations Overview and Administration
Understand the simplest process for requesting maintenance work and closing out the resulting work order (job, ticket, etc.)
Define Service Contracts, Service Desk roles & Service Level Agreements
Define teams of service providers and their employees (or craftspeople)
Define the types of problems that are serviced and develop sub-types and descriptions for each
Report on operations and maintenance activity, including how labor hours and budgets are spent
Track Service Provider performance, and client satisfaction levels
On Demand and Preventive Maintenance
Use the Operations Console to progress and close-out work
Use the Search and Manage Work Requests view to locate work requests and complete work
Assign scheduled PM procedures to both equipment and locations
Generate regularly scheduled work orders
Automate the generation of PM work orders
Hands-on: Mini Project
Apply acquired knowledge and skills in the project
Who Should Attend
Asset Managers
Facility Managers
Maintenance Managers
Department Managers
IT Managers
Business Unit Managers
Drafters
Executives
Business Process Owners
Academics
SITizens Learning Credits (SLC) - Eligible Course
SIT Alumni: Before registering for courses, please activate your SITizens Learning Credits via the email sent by SIT Alumni Team, on behalf of SITLEARN Professional Development on 31 Jan 2019.
Registration Closed.
Certificate and Assessment
A Certificate of Participation will be issued to participants who:
Attend 75% of the course, and
Undertake non-credit bearing assessment during the course
Schedule
Day
Dates
(7:00pm to 10:00pm)
Topics
Day 1
17 Sep 2019
Overview
Day 2
18 Sep 2019
Asset Inventory
Day 3
19 Sep 2019
Depreciation
Day 4
20 Sep 2019
On-Demand Work
Day 5
23 Sep 2019
Preventive Maintenance
Day 6
24 Sep 2019
Practical
Fees
Category
Full Fee
After SF Funding
After SF Mid-Career
Enhanced Subsidy
Singapore Citizen (Below 40) / Singapore PR
$1,391.00
$417.30
Not Eligible
Singapore Citizen (40 & above)
$1,391.00
$417.30
$157.30
Non-Singaporeans
$1,391.00
Not Eligible
Not Eligible
Note:
All figures include GST. GST applies to individuals and Singapore-registered companies.
You can opt for either SF Series Funding or Mid-Career Enhanced Subsidy. Both cannot be combined.
»
Learn more about funding types available
Terms & Conditions:

SkillsFuture Funding
In order to be eligible for the 70% training grant awarded by SkillsFuture, applicants (and/or their sponsoring organisations where applicable) must:
Be a Singaporean Citizen or Singapore Permanent Resident
Not receive any other funding from government sources in respect of the actual grant disbursed for the programme
SkillsFuture Mid-Career Enhanced Subsidy
To be eligible for the 90% enhanced subsidy awarded, applicants (and/or their sponsoring organisations where applicable) must:
Be a Singaporean Citizen
Be at least 40 years old
Not receive any other funding from government sources in respect of the actual grant disbursed for the programme
SIT reserves the right to collect the balance of the programme fees (i.e. the potential grant amount) directly from the applicants (and/or their sponsoring organisations where applicable) should the above requirements not be fulfilled.
Course Highlights
"The asset management tool is very useful in our FM works and it is interesting to learn!" - Amber Lin, Senior Contracts and Project Manager, CPG Facilities Management Pte Ltd
"The course is very useful for me." - Win Kyaw, Maintenance Manager, Commonwealth Culinary Creations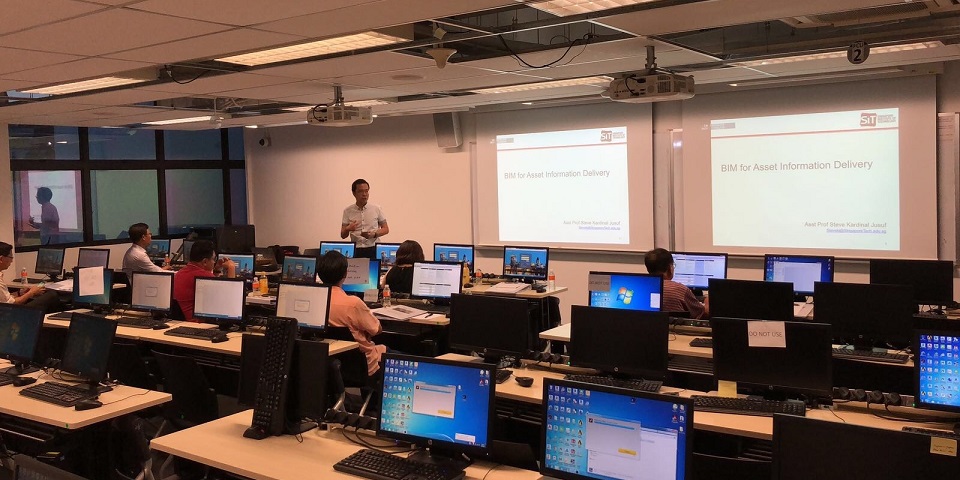 SIT reserves the right to make changes to published course information, including dates, times, venues, fees and instructors without prior notice.