Overview
The next few decades will be defined by the largest workforce transition in mankind's history. While millions of existing jobs will disappear due to technological enhancements, millions of new jobs will also be created at the same time and the remaining jobs will undergo some form of transformation. A workforce with strong technological skills, including robot literacy, will have a significant advantage when applying for jobs.
This workshop will introduce participants to this exciting world of robotics. It aims to equip participants with the fundamental knowledge in robotics such as the anatomy of robots, characteristics of robots, modelling of robots as well as selection of the right robots for the right tasks. There will also be hands-on experience that will allow participants gain a better appreciation of the contents taught.
To aid companies in transforming their capabilities through their human capital, and support Singapore's drive towards becoming a Smart Nation, this course is mapped to the Singapore Economic Development Board's Singapore Smart Industry Readiness Index – Dimension 4 Shop Floor Automation.
What You'll Learn
Evolution of Robotics
This topic will look at the evolution of robots from a historical perspective, including the various types of robots developed for the different types of application, both in the industrial and non-industrial settings.
Anatomy of a Robot
This topic will look into the basic components that make up a robot, the purpose of each components and how all these components amalgamate to make a robot carry out its tasks as intended.
Characteristics of a Robot
This topic will look into how arrangement of links and joints will results in robots with different characteristics, as well as identifying a particular configuration of a given robot and its associated parameters.
Modelling of a Robot
This topic will give a brief overview of developing a robot model to facilitate in controlling a robot to carry out the prescribed tasks. This is a precursor to robot programming.
Selection of the Right Robot for the Right Job
This topic will facilitate in the selection of the right robot for the right task based on the robot characteristics and the task requirements.
Who Should Attend
Participants who wish to understand robotics technology in general. This includes end-users of robotics technology without any engineering background, decision-makers looking into adopting robotics technology and even participants who just want to increase their general knowledge.
SITizens Learning Credits (SLC) - Eligible Course
SIT Alumni: Before registering for courses, please activate your
SITizens Learning Credits
via the email sent by SIT Alumni Team, on behalf of SITLEARN Professional Development.
CLICK HERE TO APPLY
(only for SIT Alumni)
Certificate and Assessment
A Certificate of Participation will be issued to participants who:
Attend 75% of the course
Undertake non-credit bearing assessment (during course)
Schedule
| | |
| --- | --- |
| Duration | Venue |
| 1-day (5 August 2021) | SIT@NYP, 172 Ang Mo Kio Avenue 8 Singapore 567739 |
Fees
| | | |
| --- | --- | --- |
| Category | Full Fee | After SF Funding |
| Singapore Citizen (Below 40) / Singapore PR | $695.50 | $208.65 |
| Singapore Citizen (40 & above) | $695.50 | $78.65 |
| Non-Singaporeans | $695.50 | Not Eligible |
Note:
All figures include GST. GST applies to individuals and Singapore-registered companies.
You can opt for either SF Series Funding or Mid-Career Enhanced Subsidy. Both cannot be combined.
»
Learn more about funding types available
Terms & Conditions:

SkillsFuture Funding
In order to be eligible for the 70% training grant awarded by SkillsFuture, applicants (and/or their sponsoring organisations where applicable) must:
Be a Singaporean Citizen or Singapore Permanent Resident
Not receive any other funding from government sources in respect of the actual grant disbursed for the programme
SkillsFuture Mid-Career Enhanced Subsidy
To be eligible for the 90% enhanced subsidy awarded, applicants (and/or their sponsoring organisations where applicable) must:
Be a Singaporean Citizen
Be at least 40 years old
Not receive any other funding from government sources in respect of the actual grant disbursed for the programme
SIT reserves the right to make changes to published course information, including dates, times, venues, fees and instructors without prior notice.
What Past Participants Say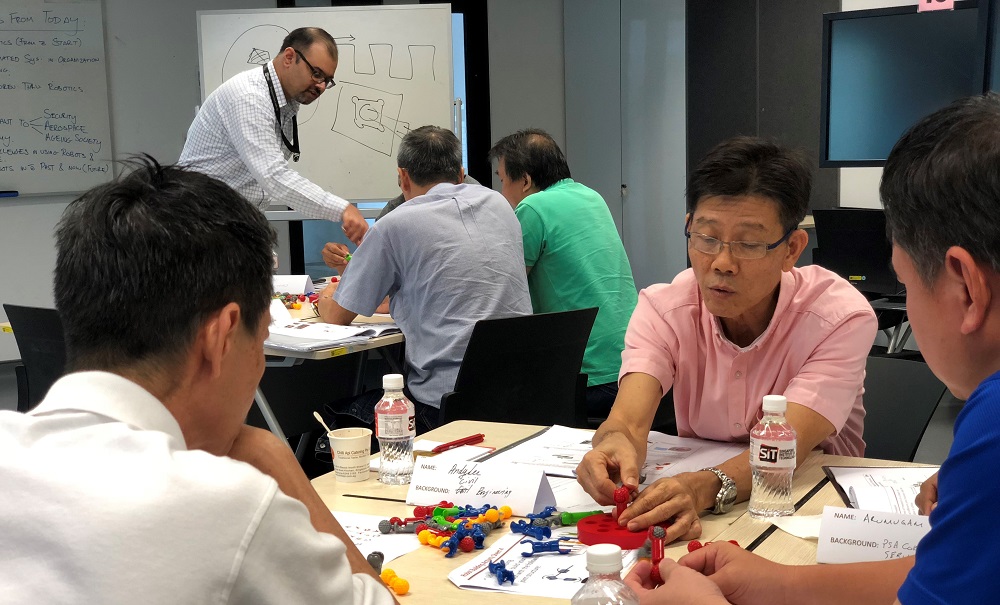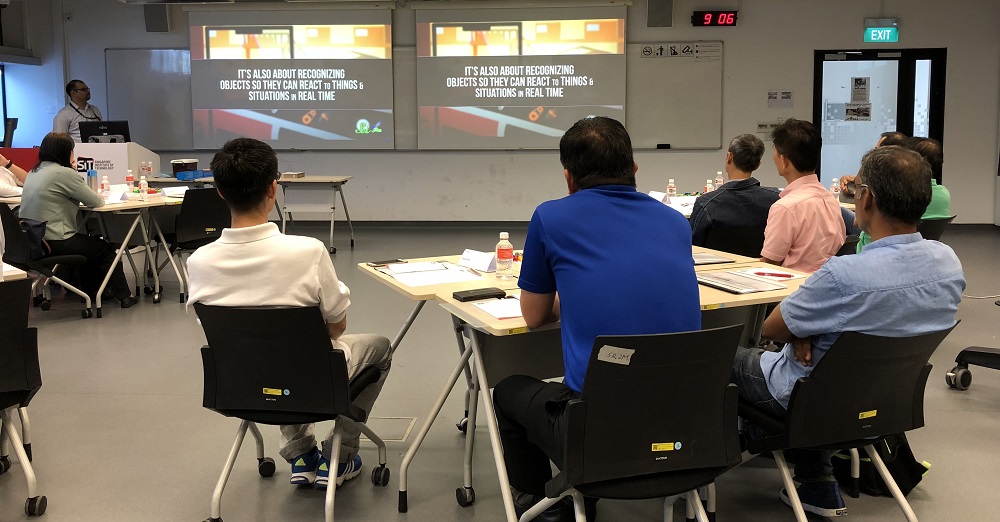 "
The trainer was very good and clear.
" -
Paul Tan, Principal Engineer, ST Electronics (Satcom & Sensor Systems) Pte Ltd
"
The lecturer was very knowledgeable and kept the class lively and interesting.
" -
Arumugam Maniam, Service Engineer, PSA Corporation Ltd
"
The course [trainer] is knowledgeable and enjoyable
" -
Tay Peng Soo, Associate Marketing Director, Huttons Asia
"
Course is suitable for audience with little or no background in robotics. Prof Mustafa is able to communicate the fundamental concept clearly and in an adjustable manner to the class.
" -
Bernard Chew