In line with Singapore's SkillsFuture movement to provide upskilling and relearning opportunities for individuals in the workforce, SIT is offering S$2000 worth of SITizens Learning Credits. Starting from 1 April 2019, all SIT Alumni can take up eligible standalone courses offered by SIT
LEARN
Professional Development. The credits can also be used to offset eligible subsidised courses funded by SkillsFuture Singapore.
This initiative caters to SIT alumni who are keen to upgrade their skills through multiple pathways to equip them to be adaptable, relevant and nimble.
Find out more about
SITizens Learning Credits (SLC) - Eligible Courses
here.
Updated: 24 April 2020
Four Free Continuing Education Modules For Every Class Of 2020 Graduate Entering Workforce
In line with MOE's directive to support the class of 2020 graduate entering the workforce in the uncertain economic outlook resulting from the COVID-19 situation, SIT will be offering four (4) free Continuing Education and Training (CET) courses to the class of 2020 graduate. This is to provide graduates the opportunities to pick up new skills sets to complement the competencies that they have acquired in their undergraduate year. This will enable our graduates to access more job opportunities across different sectors.
This latest initiative will leverage on SITLEARN's existing SITizens Learning Credits (SLC) scheme where all SIT alumni are eligible to receive $2,000 worth of SLC to apply for eligible CET courses in SIT.
Under this latest initiative, the class of 2020 graduate will be able to apply for a maximum of four (4) free CET courses using the S$2,000 worth of SLC, where the administrative fees are waived for these four (4) free courses.
Please refer to the FAQ for more information.

Brief Overview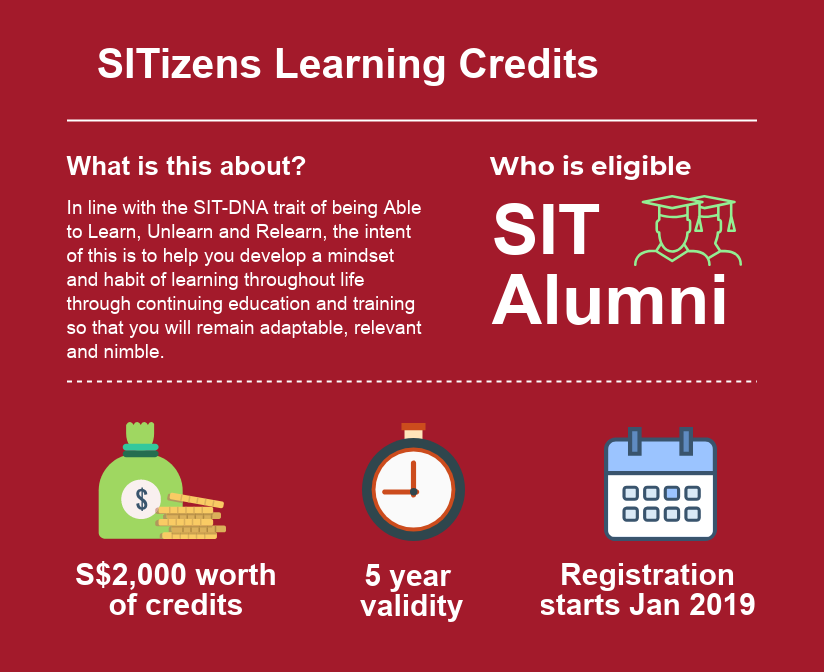 How to Utilise SITizens Learning Credits